How to Custom Hydraulic hose
Proper hydraulic hose selection is the first step in preventive maintenance. Selecting the best hose for the application will allow you to obtain the maximum life expectancy from the hose for the best value. When selecting the correct hydraulic hose, Pls consider Size, Temperature, Application, Material being Conveyed, Pressure, End Requirements, Delivery), etc, as your guide.
Custom Hydraulic Hose Length
The red hash marks are representative of Overall Length measurement in 3 common hydraulic hose assemblies. We measure from the end of the male fitting to the center of the angled female fitting. For further questions, please contact our sales team.

Custom hydraulic Fitting Orientation
Hose Fitting Orientation is measured in a clockwise direction.  Look at the along the hose with the furthest fitting away from the viewer (0 degrees) and the nearest fitting closet to the viewer (orientation angle in degrees).  Use the illustration below as a reference when discussing with our staff your hydraulic hose assembly.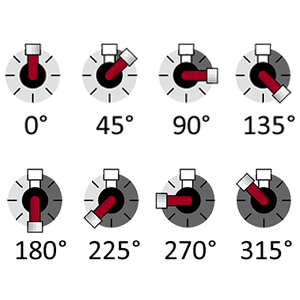 Hydraulic hoses and fittings can be assembled by your precise specifications. At Evergood, we have the in-house capacity to custom hose assemblies with permanent, crimped hose ends. Each hose assembly is made to your specifications and every hose is tested for quality assurance.